Amalfi, ancient Maritime Republic, symbol city and beating heart of the entire Amalfi Coast, is also known as the cradle of history, legends and ancient discoveries. One of the oldest one in the World: the invention of paper!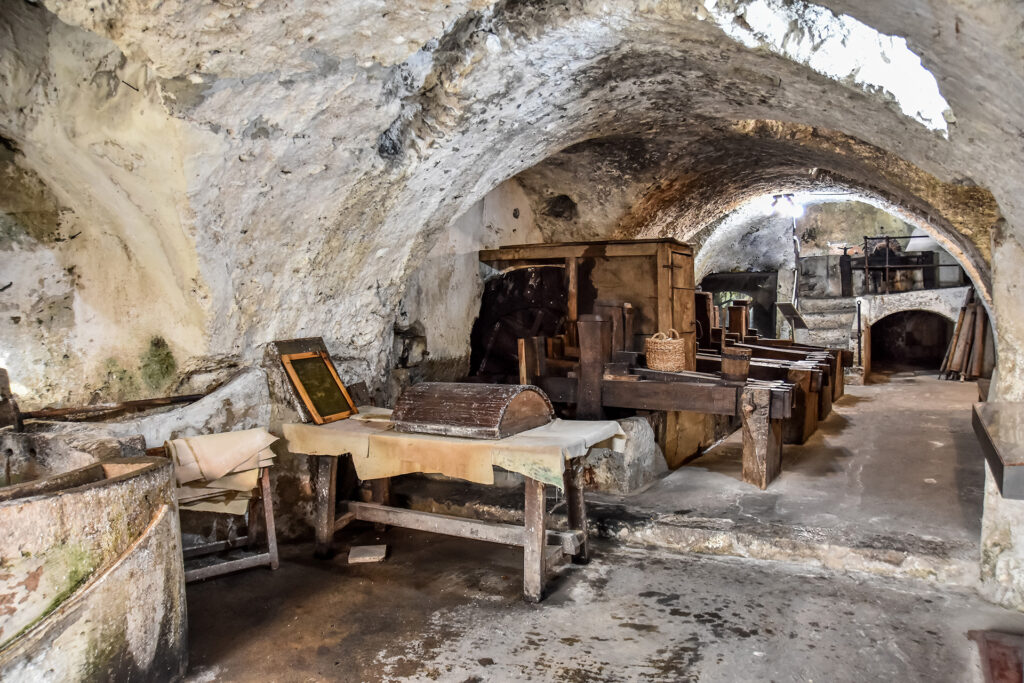 The discovery of paper, worldwide attributed to the ancient Chinese Civilization dating back to 105 AD, has literally traveled around the World from East to West. From Japan to Arabia, this ancient art reached the Mediterranean lands in the territories of the Maritime Republics: Amalfi, Pisa, Genoa and Venice that had great trade relations with the East in the twelfth and thirteenth centuries. 
From historical records, the oldest of the Republics – Amalfi – had its own 'workshops' of paper located in the cities of Palermo, Messina and Syracuse until the rise of real paper mills along the so-called 'Valle dei Mulini' where the Canneto river flowed and still flows nowadays. From the Lattari Mountains, the river branches out into a long series of canals becoming the driving force of the machines from which was produced the finest Amalfi paper – better known as 'bambagina paper' from the name of the cotton used for its production 'bambagia' – turning into one of the most prestigious paper for notary deeds and royal transcripts.
The art of manufacturing paper was handed down from one generation to the next until the flood of 1954 which destroyed all the paper mills in the Valley. Only three paper mills managed to survive the flood, among them the paper mill of the Milano Family, the current site of the ancient Amalfi Paper Museum.
The Amalfi paper is still one of the most valuable and prestigious papers in the World. Discovering its history, production processes and watching the machines still working just like they used to be is definitely an experience not-to- be-missed. 
A real journey back in time #alongthecoast